MAN AND CHAIR

Artist sitting on a chair in the 4 corners of his studio
u
i

j

k

k

m

m

m

n

l

,

m

m

**

Detox wall

Paint on bedroomwal

7

NNNN

'Thingie thingie'

Black paint on paper and masking tape: Nothing
o
NONONO

Tree

Christmas lights rounded one of the branches (part) of the tree in front of my studio. Looking like a beacon, a smoldering branch, or a middle finger.(December 2016) . The Chestnut tree is situated right on the corner of the busy crossroad Rijksstraatweg (A44) and  Lange Kerkdam.

u

,

Now let it rot…
Slow erasing image (reverse grafitti); Two months and counting. See development below. End of active involvement in December 2016
m
^^

Play here

(Paper, flags black acryl paint, masking tape,. 64 by 64 cm)
p
pp

———-

Again crossing
O

m

I'll find the words…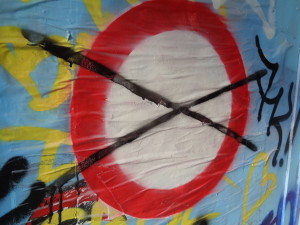 Pesthuistunnel Leiden
Inside a tunnel (called the bullyhousetunnel) where graffiti is allowed (?).
i

β

Gelul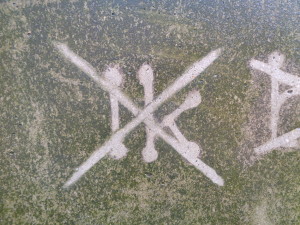 Part of written wall crossed out further (see below)
i
***
It just fucking exists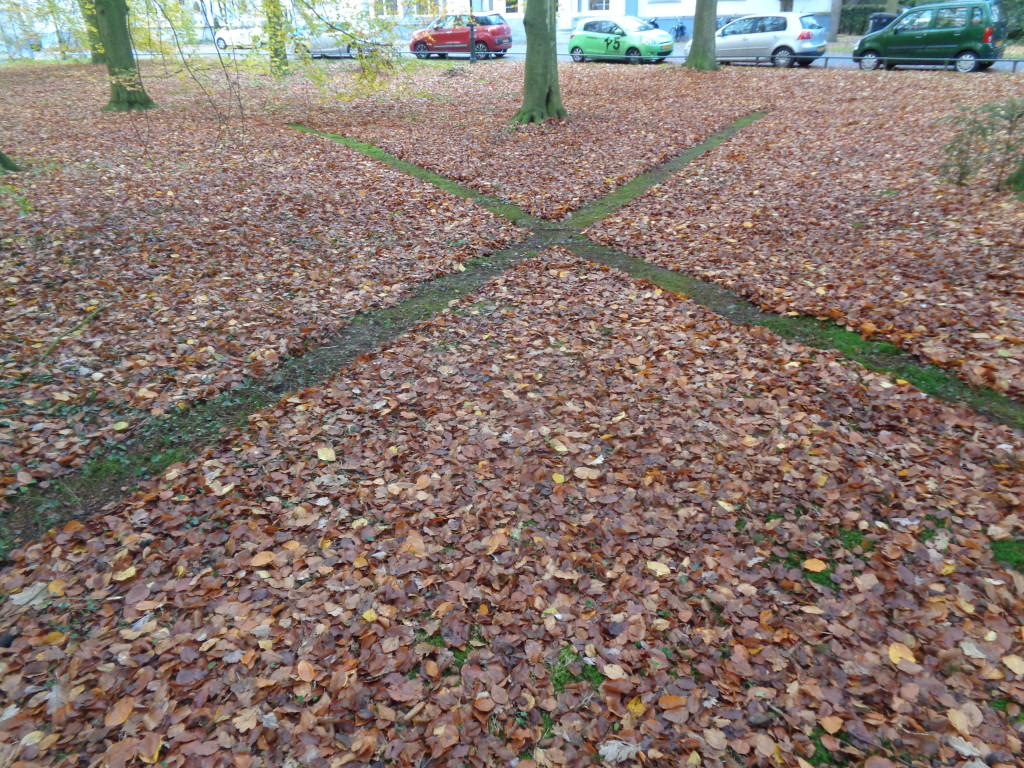 Reverse Leaf cross
(Cross in front of Town Hall de Paauw, Wassenaar, 18 by 12 meters)
X
No Symbol at all
Go symbol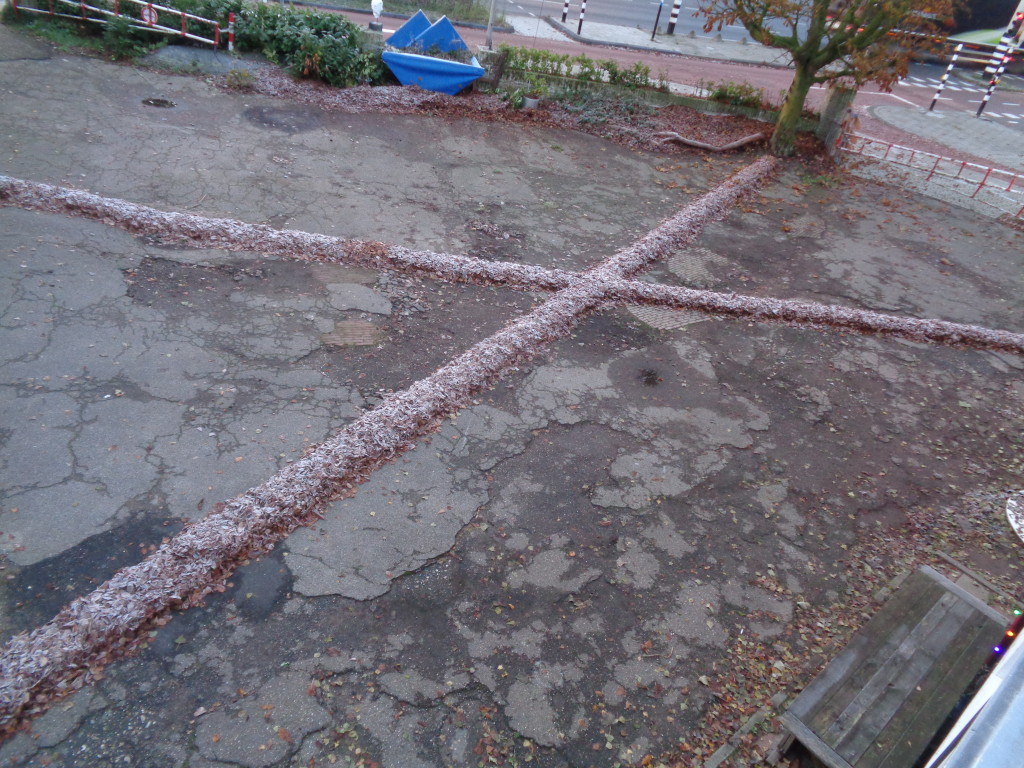 Frosted leafs in cross formation
(18 by 12 meters Wassenaar november 2016)
f
h
M
Closed String
(soft circle)
Another fall
Golden leaves in a closed string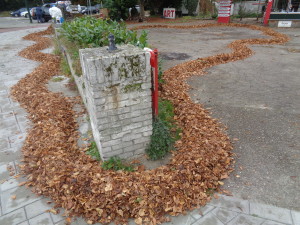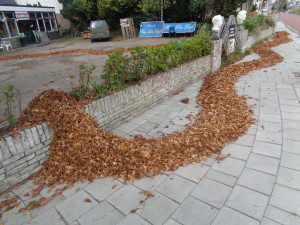 Parking studio, October, 2016 p
b
K
J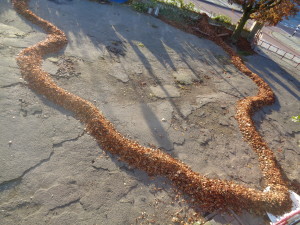 Delete delete (in all chaos desire)
More crossing out (see below)
m
U
I am looking for the artist too baby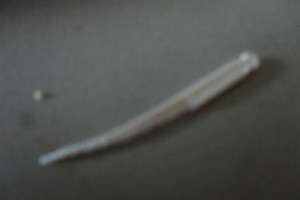 (plastick toothpick and used and blurred)
Waaraan?
l
NO
Erase Nothing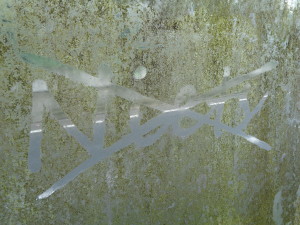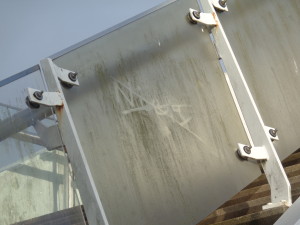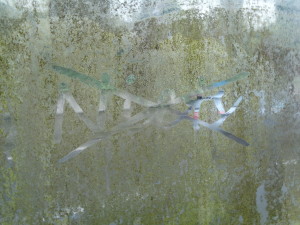 h
b
H
H
H
The word "nothing' written a month earlier on glass sound barrier walls next to the A44 now crossed out (Wassenaar, Leiden, Oegstgeest).
d
XXXXXXXXXXXXXXXXXXXXXXX
Cross out
Doorkruisen, durchkreuzen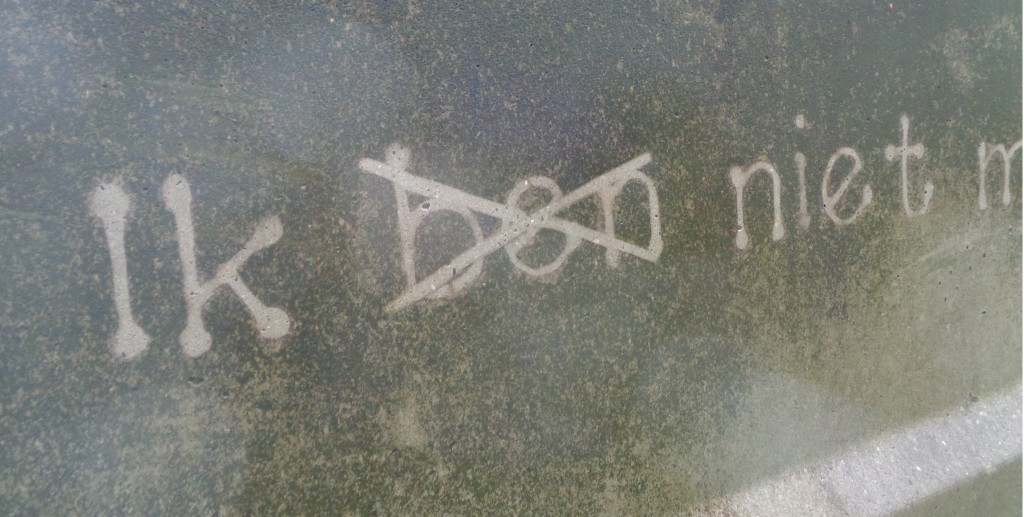 (reverse grafitty, I started to cross out my earlier sentence; 'I am not peacefull anymore' (after one month))
W
WINNIN!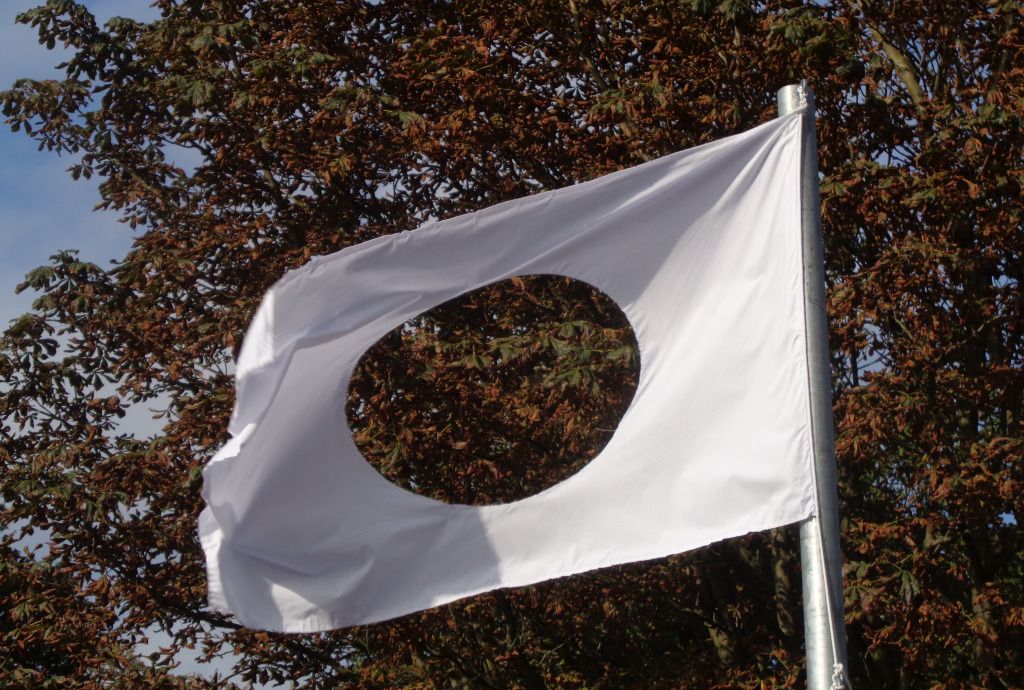 Vlag, Flag (90 cm, 140cm)
+
(Still Words)
Goed
Good
Gut
Bien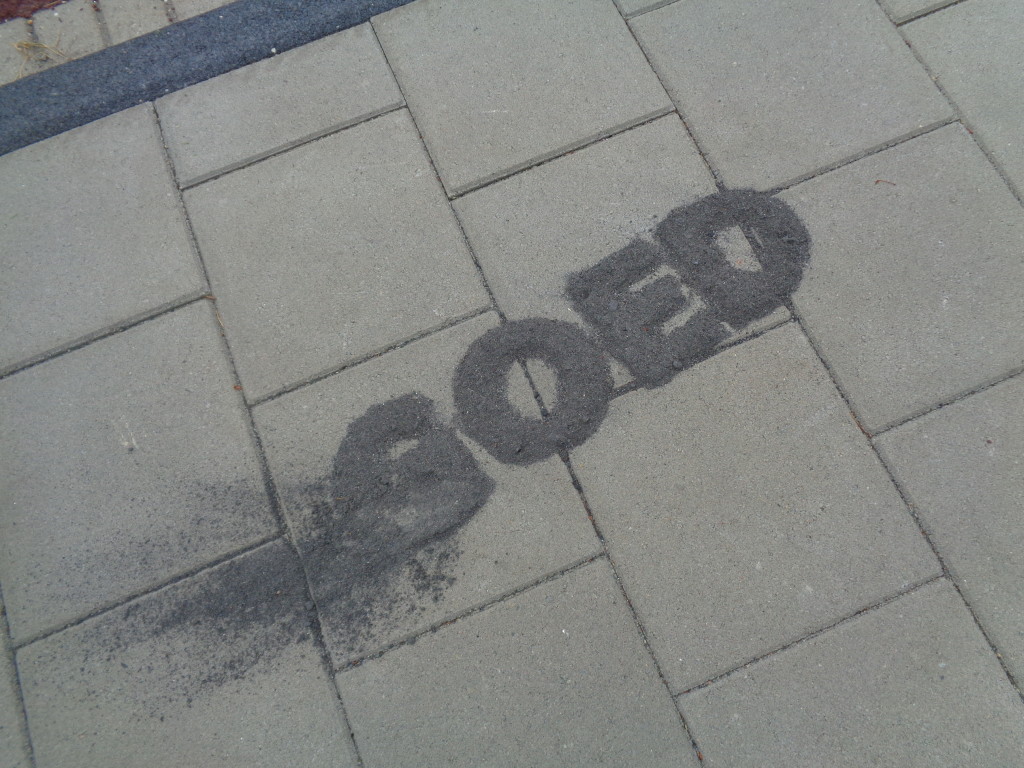 Ash on sidewalk (after two days)
*
Mocking Game
(I am not peacefull anymore)
(Reverse Graffity, October 2016, along the A44, Wassenaar)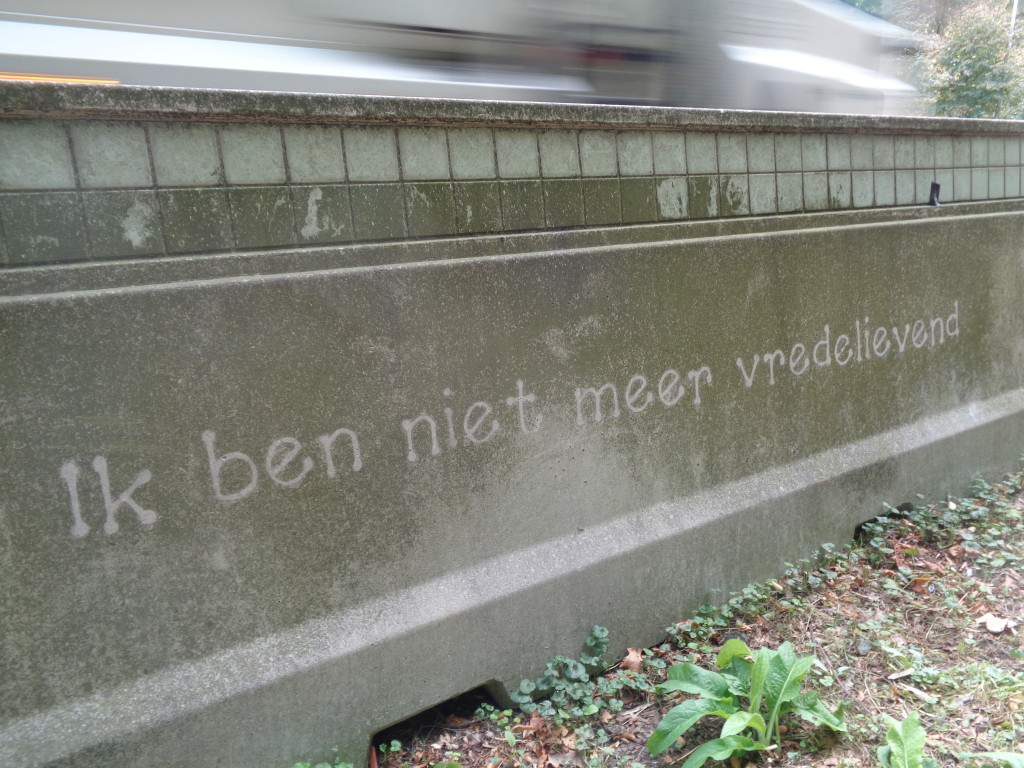 $(Along the A44 Wassenaar)
©
u
(sept 2016)
Spiel-Team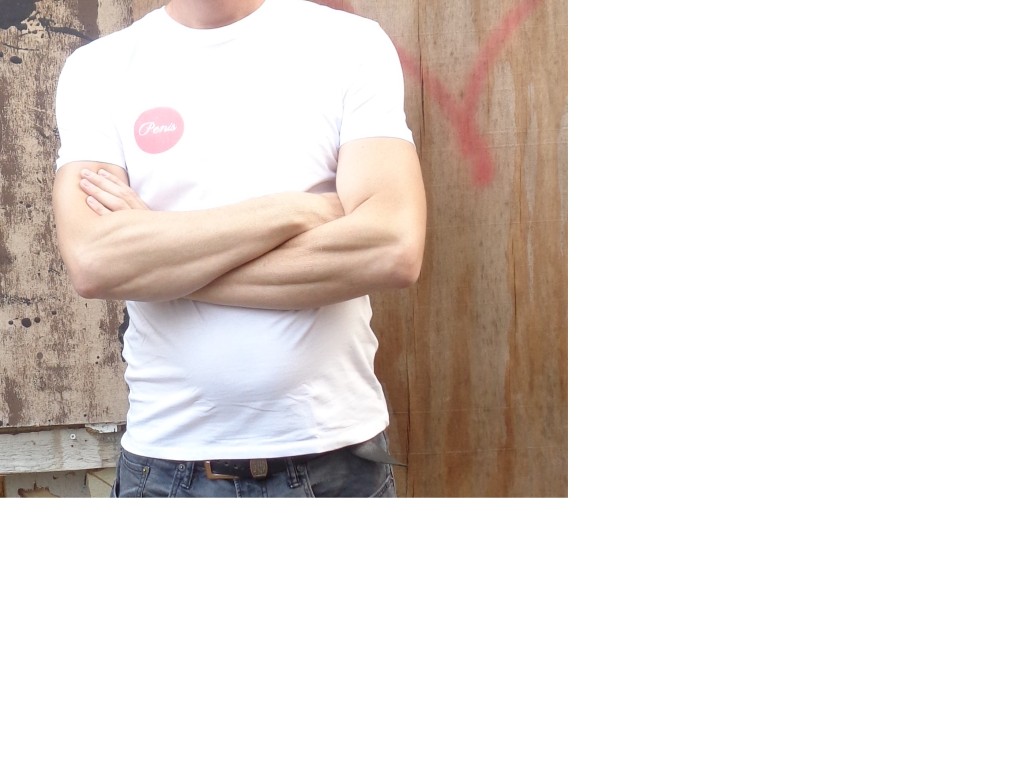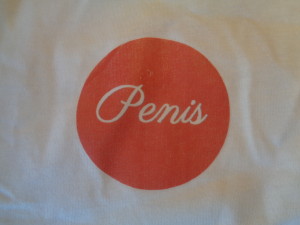 Wassenaar, 2016
Spiel-Team
rX
Doorkruis
Zwart kruis op ruw wit hardboard vierkant (115 bij 115 cm);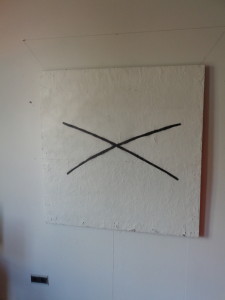 b
—
A Yellow Lamp above my table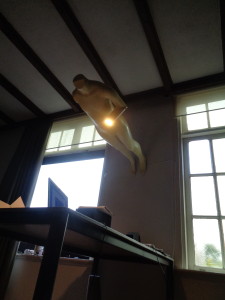 Post-it-yellow mannequin attached with feet against the wall hanging horizontally above my working table. Light is fixed in the one arm and turns like a mannequin arm does. 
q
u
X
AANWEZIG
(Woord doorkruist na twee maanden)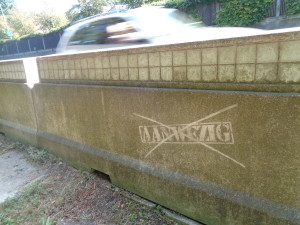 gReverse graffty, Rijksstraatweg/A44  Wassenaar
T
Mocking Time 
On the beach; 
An eight kilometer performance/beachpoem on the beach of Wassenaar Holland (June/July 2016)
b
⊗
Mocking Space
Iets
(Something)
Draadstaal op 3 meter hoge dunne stalen paal. Beweegt in de wind en was meteen bij plaatsing een uitkijkpunt voor Libellen (Augstus 2016).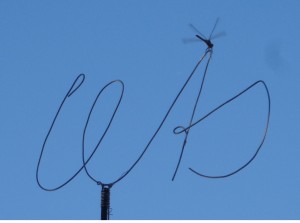 *
(Space Mocking)
Niiiieeeeeeeeettsss (aug. 2016)
(Nothing)
(and failing anyway)
Reverse graffity on glas along the A44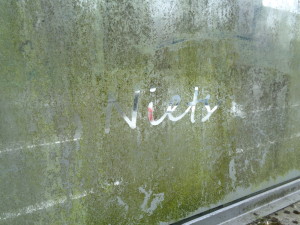 l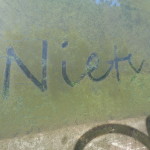 k
P
Mocking Me
HIER
No such thing as here
500 keer het woord 'HIER' in drie kleuren met stoepkrijt op het gebroken asfalt van de parkeerplaats van het atelier geschreven. Mijn auto bedekt een open plek zonder vaste ondergrond waar dus niet op viel te krijten. De auto had een schoolbord-coating en heeft deze plek op een eenvoudige manier op en ingevuld…(July 2016)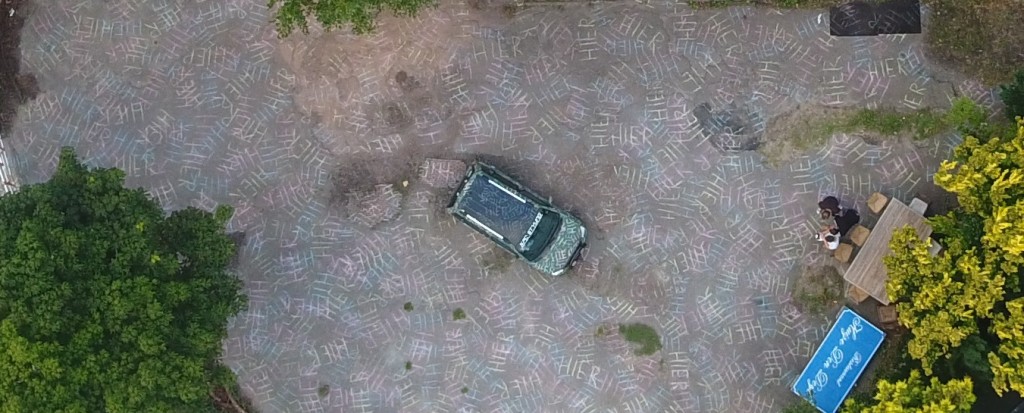 Writing 500 times the word 'HERE' ('HIER' in Dutch) in three colors with chalk on the broken asphalt of the parking space of my studio. My car is covering a small hole or sandpit on which it was impossible to write. My new car was coated in a green blackboard paint and conveniently covered this open space.
Detail (Looking up)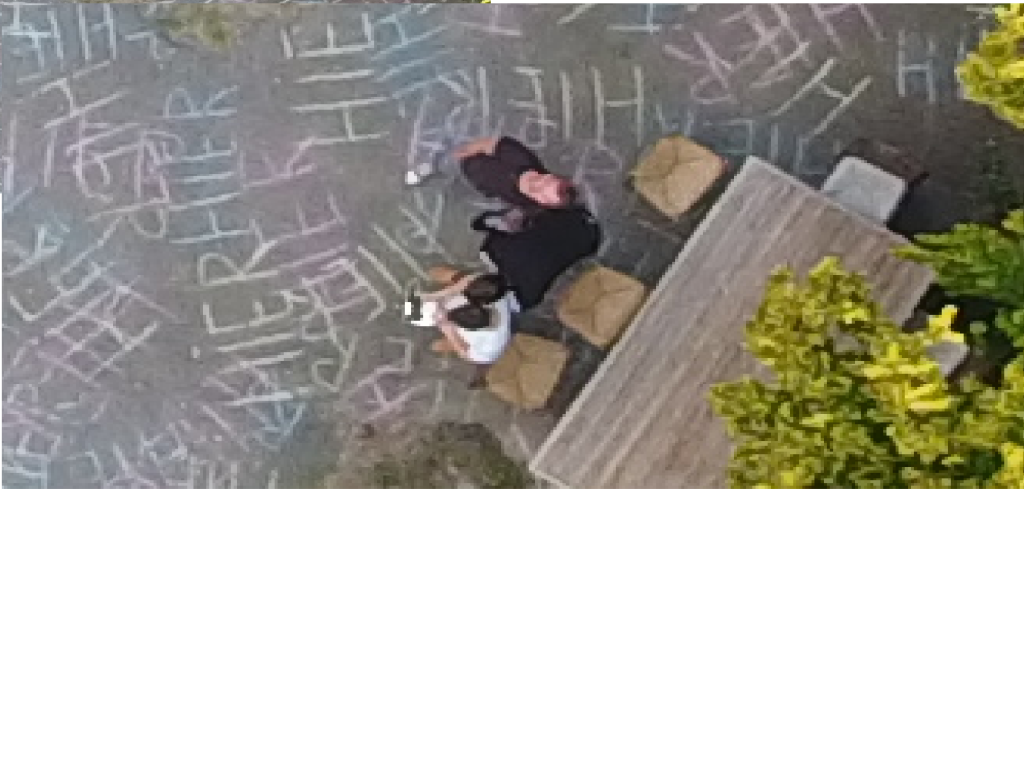 A
AANWEZIG
(aug. 2016)
Zand op straat bij elkaar geveegd en weer in een andere vorm gearrangeerd. In Wassenaar, Amsterdam, den Haag en Leiden.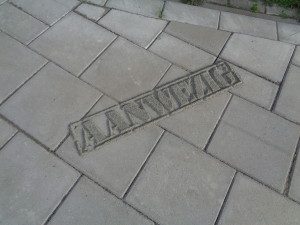 Sand from the streets of Amsterdam, the Hague Wassenaar and Leiden. and rearranged in this new form on the same streets. 'Aanwezig' is Dutch for 'Present'.
Flag
Vlag, Flagge, Drapeau,
It is Windy, Het Waait, Es Weht, Il Souffle
Wassenaar 2016
h
AANWEZIG
Reverse graffity aan de A44 Wassenaar.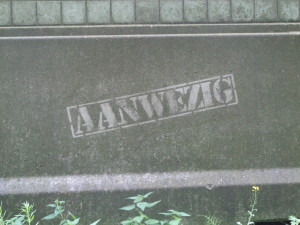 >